Asustor AS1104T 4 bay NAS Tower Realtek RTD1296 1GB DDR4 1 port LAN 2.5G compatible with Expansion Unit


It's the Little NAS That Can
Great Value, Great Performance


Realtek RTD1296 Quad-Core 1.4 GHz CPU
Uses 1 GB DDR4 – 40% more efficient
Superfast 2.5-Gigabit Ethernet
Enjoy, download, upload and stream content with 4K transcoding.
Supports Wake on LAN and Wake on WAN
New Rose Gold logo
Tool-free installation
All New Hardware – Same Great Case
2.5-Gigabit Ethernet – More than twice the performance of Gigabit
Realtek RTD1296 Quad-Core CPU at 1.4Ghz
DDR4 RAM – 40% more efficient
High performance, 4K decoding
Supports Wake on LAN and Wake on WAN
Holistic Backup Solution
Phone backup

PC backup

NAS data preservation

Cloud to NAS backup

NAS to NAS backup

USB backup




Brand-New ADM 4.0
ADM 4.0 is here and brings a whole host of intuitive design changes to ADM OS. The upgraded UI brings a new aesthetically-pleasing dark mode that helps to save and preserve OLED displays. ADM 4.0 introduces a new login page that contains a variety of customizable elements, a more convenient and easier-to-use quick search feature and new custom themes. Under the hood, ADM 4.0 brings improvements to performance, compatibility and security as the new version of OpenSSL plugs vulnerabilities found in previous versions, increasing security while efficiency improvements bring better performance.
Rose Gold Coloring
The all-new Rose Gold Logo is elegant and distinct, enabling easy distinction between ASUSTOR NAS models.
Realtek Quad-Core CPU and DDR4 RAM
The Drivestor 2 and Drivestor 4 are equipped with a Realtek RTD1296 1.4GHz Quad-Core 64-bit CPU. Transcode, stream and play multimedia in 4K, transfer files and easily multitask with the Drivestor series. The Drivestor handles multitasking with ease by utilizing its 1 GB of DDR4 memory ensuring that virtually any task on an ASUSTOR NAS is executed smoothly.
Efficient and Powerful
The Drivestor 2 and 4 are ASUSTOR's highest value devices ever. Transcode 10-bit 4K H.265 media with hardware decoding easily that enables unbelievably smooth video playback in LooksGood.
Media Mode
The Drivestor 2 and 4 come with 1 GB of memory. Media Mode is a new feature that efficiently reserves 512 MB of RAM for multimedia tasks as a variety of tasks require large amounts of RAM. With dedicated RAM for multimedia, video playback remains smooth and is not interrupted by other tasks.
2.5-Gigabit Ethernet – Double Speed
The Drivestor 4, despite being extremely affordable contains 2.5-Gigabit Ethernet and more than doubles the performance of comparable Gigabit-class devices.
Free exFAT
exFAT is now supported free of charge in ADM 4.0 due to a policy change by Microsoft.
Ultra-quiet Operation
The AS11 series devices produce only 19 decibels of noise during system standby, equivalent to the almost inaudible sound of a pin drop. During system operation, only 32 decibels of noise is produced, equivalent to the hushed tones of a quiet library, allowing the AS11 series devices to seamlessly and comfortably integrate into any living environment.
24/7 reliability and durability
All ASUSTOR NAS are designed for and are suitable for 24/7 use. ASUSTOR NAS devices have also undergone rigorous tests, such as drop tests and burn tests to test durability in extreme conditions. Heatsinks were added to sensitive components to dissipate heat, helping to maintain the longevity of the device.
Protect your data from loss, damage and attacks with the Drivestor 4. A Drivestor 4 is better protected by running the Linux-based ADM, employing a built-in firewall, ClamAV Antivirus and ADM's various backup tools help protect ransomware even better.
Network Attack Protection
Secure Data Transmission
VPN connection
SSL certificate connection
Automatic logout
Internal Data
AES-256 folder encryption
Antivirus software - ClamAV
Access Control
File/folder/app isolation
2-Step Verification
Wake-on-LAN (WOL)
Wake-on-WAN (WAN)
Protected From Ransomware
The Drivestor comes with the most up-to-date version of ADM to help protect against ransomware attacks. Snapshot Center provides the ability to efficiently create snapshots to protect and easily restore lost data. Other security features found on the Drivestor are the ability to create one or more replacement administrator accounts, a firewall by ADM Defender that features blacklists and whitelists, the ability to change default ports, disable SSH and Terminal to prevent remote attacks. MyArchive cold storage hard drive security can also be increased by implementing AES 256bit encryption.
Web Center
Easily set up a website with Web Center. Install Apache or Nginx or almost any other web server implementation and add multiple website portals for an easy-to-use web server
Photo Gallery 3 + AiFoto 3.0
The all new Photo Gallery 3 and AiFoto 3 have been revamped and brings a variety of new features to make photo organization easier than ever. New features for Photo Gallery 3 include, but not are limited to custom folder selection, timelines, smart albums, and new photo modes. Easily blow up photos to up to twice their size, play songs on slideshows, performance enhancements and customized share links make for an even better photo viewing and sharing experience.
ASUSTOR EZ Sync
ASUSTOR EZ Sync Learn more about this
All new UI. Simpler and easier to operate. View NAS information quickly.
More complete settings - offering detailed folder lists. Easily select folders and files not in a folder.
Notifications for abnormal status
Support 2-step verification increase account safety.
Improve NAS connecting and file sync system stability for better user experience.
Cloud Backup Center
Cloud Backup Center brings support for various business cloud services including, but not limited to Amazon S3, Backblaze B2, Baidu Cloud, IBM Cloud, Rackspace Cloud Files, Microsoft Azure Blob Storage and Alibaba Cloud. Control your data with instant and scheduled backups as well as using Cloud Backup Center to create a hybrid cloud that keeps your data online and offline, keeping your data protected.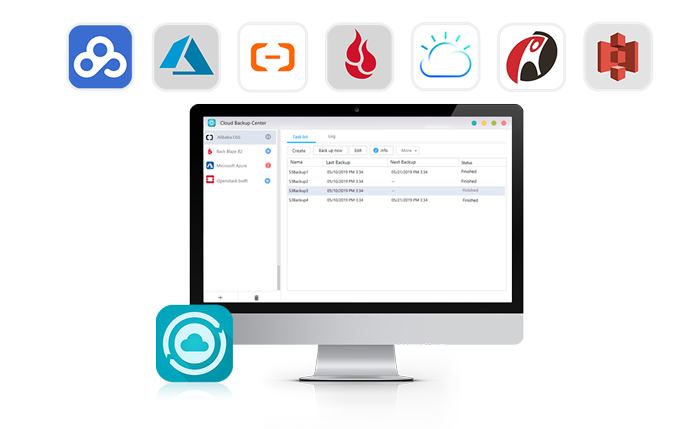 CPU
CPU Model
Realtek RTD1296


CPU Architecture
ARM64 64-bit


CPU Frequency
Quad-Core 1.4GHz


Memory
Memory
1GB DDR4


Memory Expandable up to
not expandable

Flash Memory
8GB eMMC

Storage
Drive Bays
4

Compatible Drive Type
3.5" SATA HDD

Maximum Drive Bays with
12

External Ports
Expansion
2x USB 3.2 Gen 1

Network
1x 2.5 Gigabit Ethernet (2.5G/1G/100M)

HDMI Output
N/A

Others
System Fan
1x 120mm

Power Supply Unit / Adapter
90W x1


Input Power Voltage
100V to 240V AC

Certification
FCC
CE
VCCI
BSMI
C-TICK
KCC
BIS
CCC

Operation
Power Consumption
22.8W (Operation) 9.41W (Disk Hibernation);

Noise Level
19.7dB (HDD idle)

Operation Temperature
0°C~40°C (32°F~104°F)

Humidity
5% to 95% RH

Size and Weight
Size
165(H) x 164(W) x 218(D) mm

Weight
1.57 kg / 3.45 lbs

After Sales Support
Warranty
1 Year