Asustor AS6602T 2 bay NAS Tower Intel J4125 4GB DDR4 ( upgrade to 8GB ) 2 port LAN 2.5G compatible with expansion unit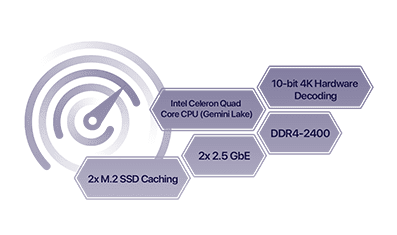 All new hardware – Same great case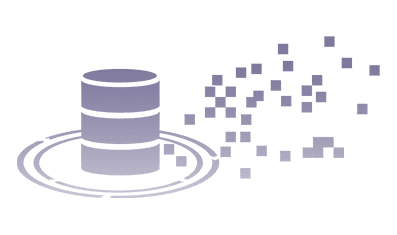 360° Backup solution and enterprise virtualization application
All New Hardware – Same Great Case
Two 2.5 GbE ports with up to 5 Gbps under Link Aggregation
Dual M.2 NVMe SSD ports for fast caching
Overwhelming 4K experience
Intel Celeron quad core CPU - 30% faster than previous generation.
4GB DDR4-2400 - 30% faster than DDR3
Supports Wake on LAN and Wake on WAN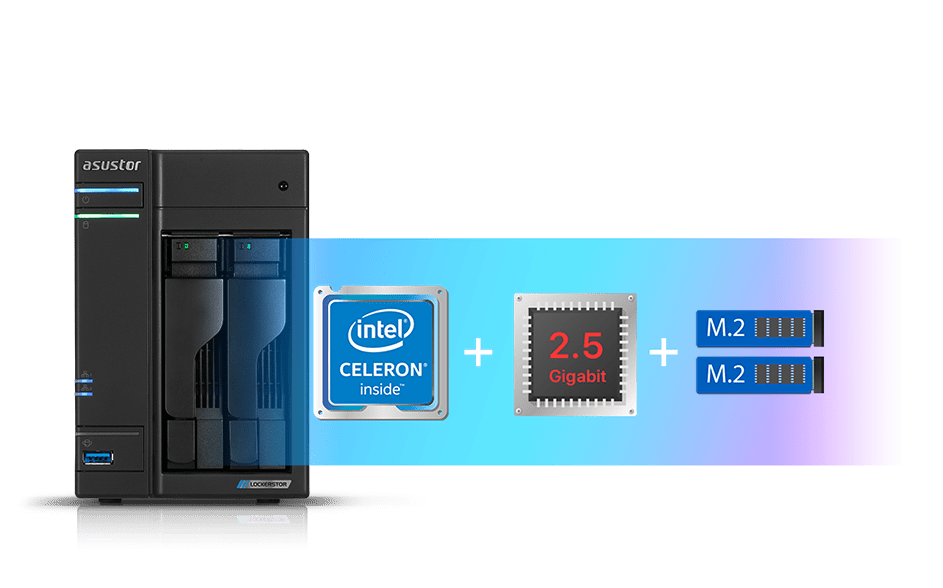 360° Backup solution and enterprise virtualization application
MyArchive cold storage backups
Snapshot Center, Cloud Backup Center, DataSync Center
Complete iSCSI/IP-SAN and NFS support
VMware, Citrix and Hyper-V ready
Supports Virtualization and Docker apps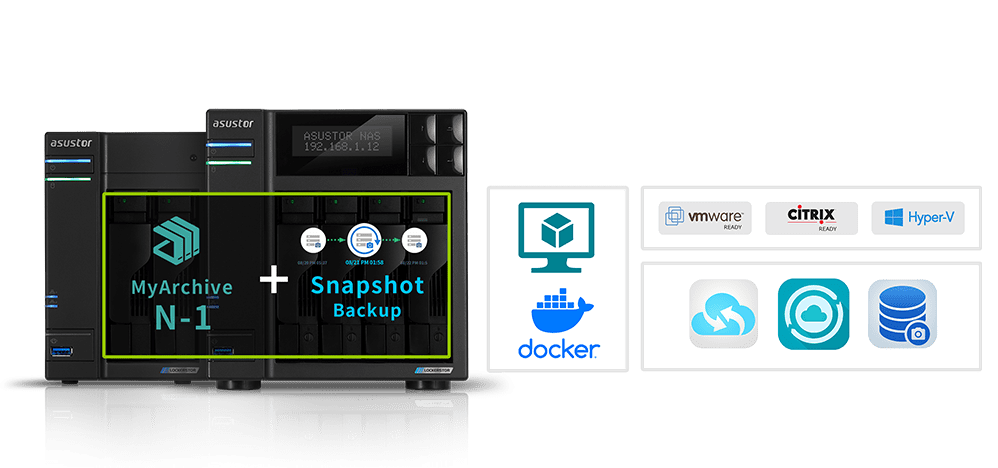 Powered by the latest Intel Celeron J4125 (Gemini Lake) quad-core processors

The Lockerstor 2 utilizes the Intel Gemini Lake Celeron J4125 Quad Core CPU and is 30% faster than Apollo lake. The Celeron J4125 also doubles the on-chip cache to 4MB, making the Lockerstor 2 one of our fastest NAS devices ever.
Upgradeable 4GB Dual-Channel DDR4-2400 RAM

The Lockerstor 2 comes with four Gigabytes of DDR4 RAM and can be upgraded up to 8GB. DDR4 RAM provides up to 30% greater performance than DDR3 while also lowering energy requirements by 40%.
150% Faster with 2.5-Gigabit Ethernet
The Lockerstor 2 provides two 2.5-Gigabit Ethernet ports. Enable up to 150% faster performance than Gigabit Ethernet with compatible hardware and up to 5 Gbps using Link Aggregation.*
*Link Aggregation only supported with compatible hardware. Please check beforehand and verify that Link Aggregation is supported on your equipment.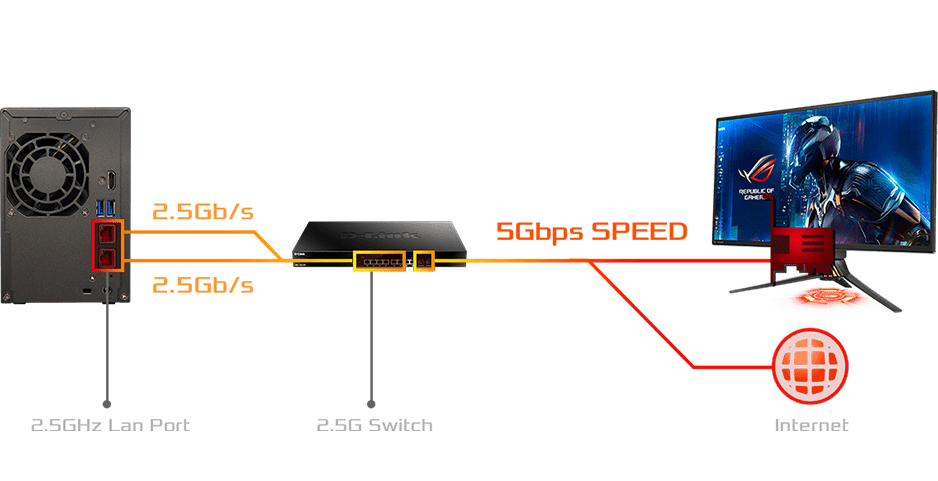 Easy M.2 SSD installation
Dual M.2 slots for NVMe SSDs for SSD Caching.
The Lockerstor 2 is the first two bay NAS with integrated M.2 SSD slots.

*M.2 2280 cards supported with installed mounting holes.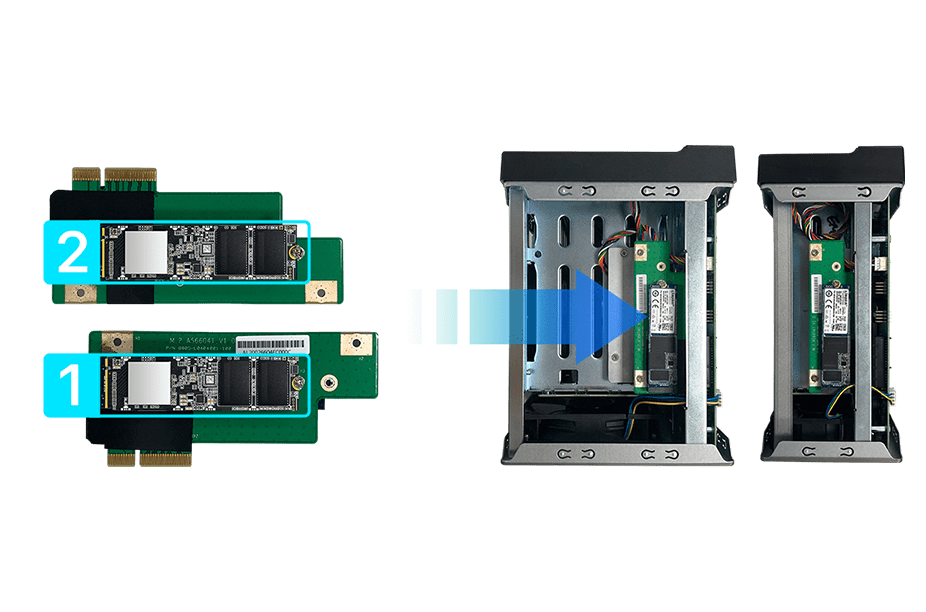 Two Bays with Two M.2 SSD Slots for Flexible Cached Storage
The Lockerstor 2 is a cost-effective high capacity NAS designed for enterprise environments. The Lockerstor 2 is flexible, supporting online capacity expansion and replacement. Online capacity expansion enables you to replace hard drives inside the NAS without downtime. If your budget and/or storage requirements are small, the Lockerstor 2 enables your NAS to grow alongside your needs by first purchasing smaller drives and then add more drives as you need. Additional drives can be purchased as your storage requirements grow and all drives can be fully replaced while continuing to use your NAS. Combining this with ASUSTOR's MyArchive cold storage technology enables you to store a virtually unlimited amount of information.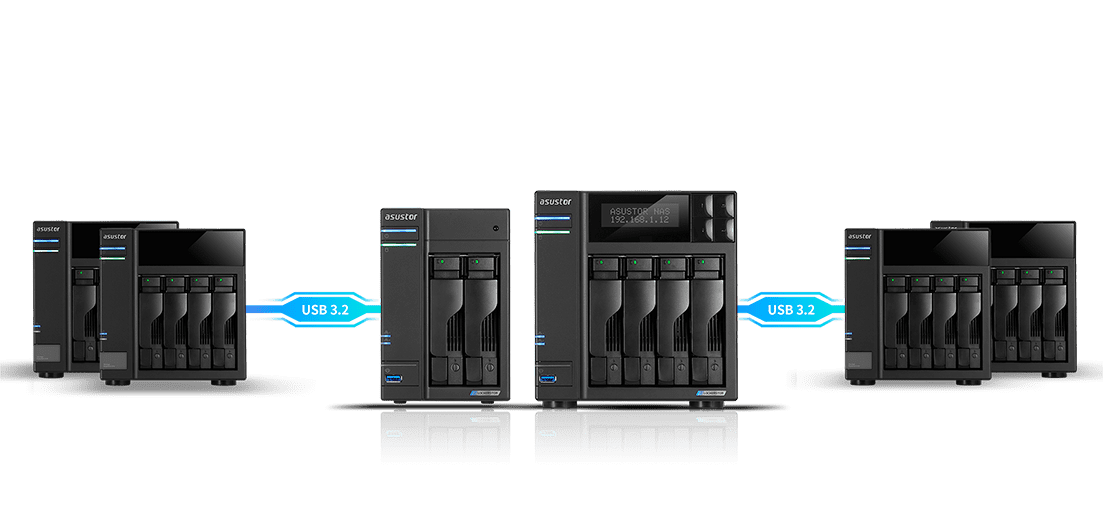 24/7 Reliability and Durability
All ASUSTOR NAS are designed for and are suitable for 24/7 use. ASUSTOR NAS devices have also undergone rigorous tests, such as drop tests and burn tests to test durability in extreme conditions. Heatsinks were added to sensitive components to dissipate heat, helping to maintain the longevity of the device.
---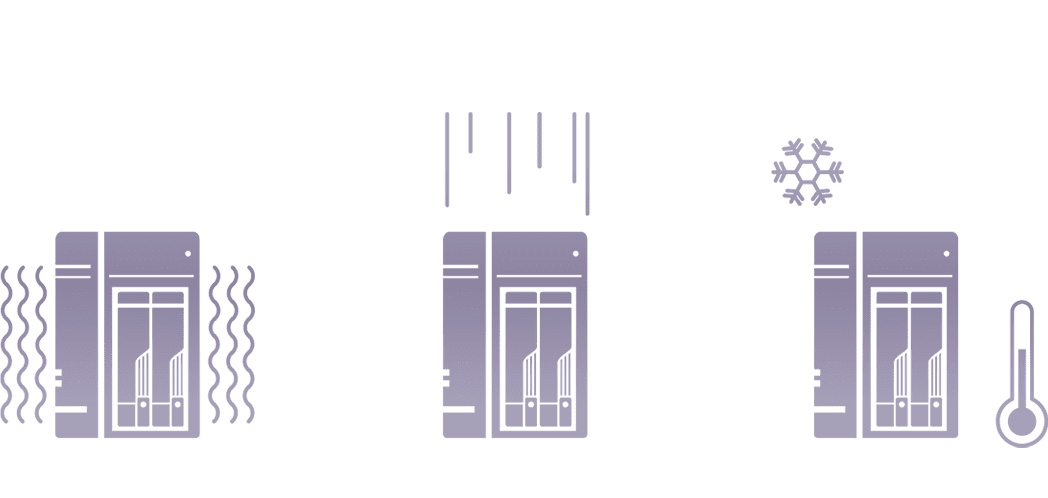 Protected From the Inside and Out
Protect your data from loss, damage and attacks with the Lockerstor 2. A Lockerstor 2 is better protected by running the Linux-based ADM, employing a built-in firewall, ClamAV Antivirus, MyArchive and ADM's various backup tools help protect ransomware even better.


Network Attack Protection
Secure Data Transmission
VPN connection
SSL certificate connection
Automatic logout
Internal Data
MyArchive offline backup
AES-256 folder encryption
Antivirus software - ClamAV
Access Control
File/folder/app isolation
2-Step Verification
Wake-on-LAN (WOL)
Wake-on-WAN (WAN)
Wake Up From Anywhere

The Lockerstor 2 and 4 feature Wake on WAN technology. No specialized equipment or settings are needed to wake the NAS. Simply use ASUSTOR's wide variety of mobile apps, including but not limited to AiMaster, AiMusic, AiVideos and AiData to turn the NAS on or off remotely. Wake on WAN helps protect data by keeping the NAS powered off when not in use; thereby helping to prevent attacks, protects data integrity by remaining powered off during power failures and Wake on WAN also saves electricity, making for an even more efficient NAS.
Use mobile apps like AiMaster to power the NAS on or off.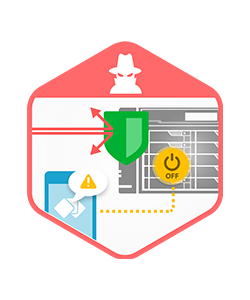 Helps prevent attacks and protect data.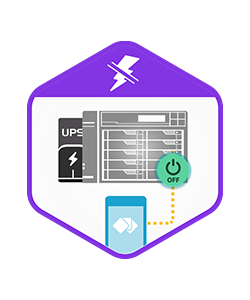 Power outage management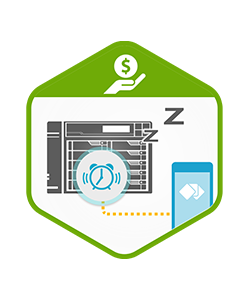 Saves electricity
Protected From Ransomware

The Lockerstor comes with the most up-to-date version of ADM to help protect against ransomware attacks. Snapshot Center and Btrfs provide the ability to efficiently create snapshots to protect and easily restore lost data. Other security features found on the Lockerstor are the ability to create one or more replacement administrator accounts, a firewall by ADM Defender that features blacklists and whitelists, the ability to change default ports, disable SSH and Terminal to prevent remote attacks. MyArchive cold storage hard drive security can also be increased by implementing AES 256bit encryption.
Comprehensive Backup Solutions
ASUSTOR's comprehensive backup solution provides more than twelve backup options, including, but not limited to Amazon S3, Dropbox, Google Drive, and OneDrive. ASUSTOR Backup Plan for Windows as well as Time Machine for macOS provide easy backups for desktop and laptops while MyArchive removable hard drives provide long term storage. Btrfs is now supported and with Snapshot Center, can take snapshots of your information in the event of unintentional modification. Restore previous versions easily with Snapshot Center.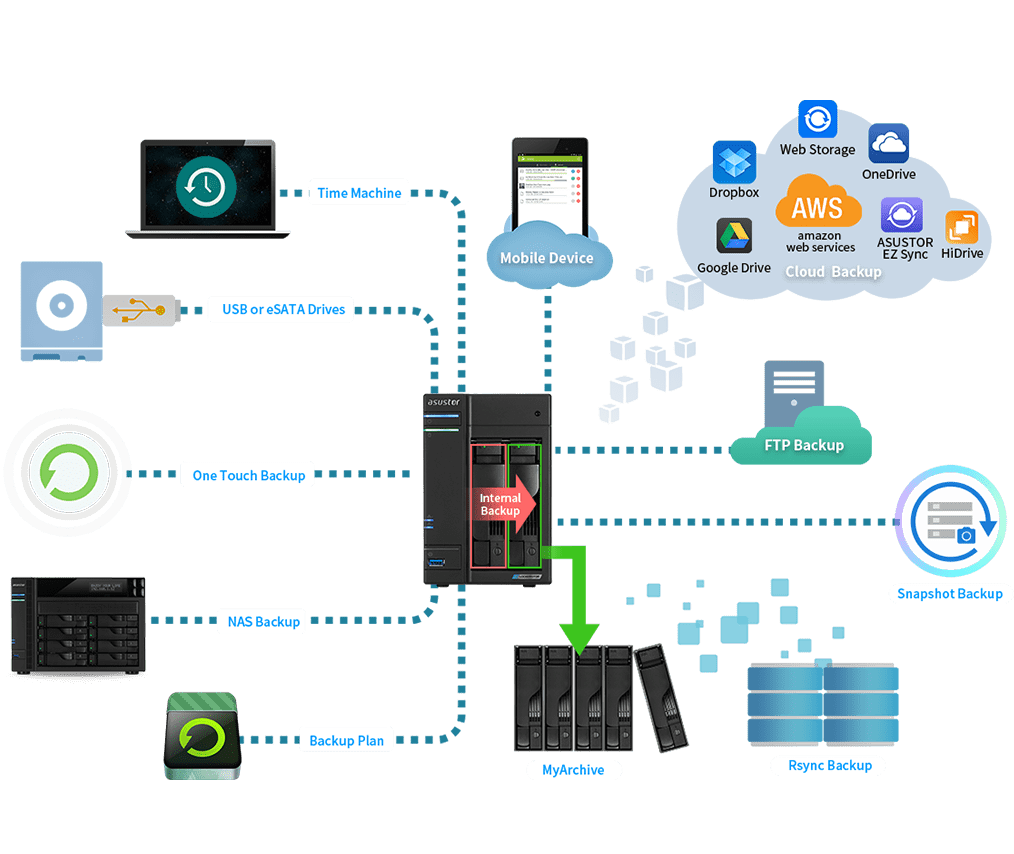 Virtual Storage

The ASUSTOR NAS provides enterprise-class hardware and software and is compatible with VMware, Citrix, Hyper-V virtual storage environments. iSCSI/IP-SAN and NFS support allow it to seamless integrate with existing IT environments, providing an optimal and cost-effective storage solution.
Exclusive MyArchive Cold Backup Technology
Unlimited Capacity Expansion
MyArchive cold storage technology turns NAS hard drives into removable storage archive drives. Directly insert a MyArchive hard drive into a free bay inside your NAS to easily access, backup and share terabytes of content.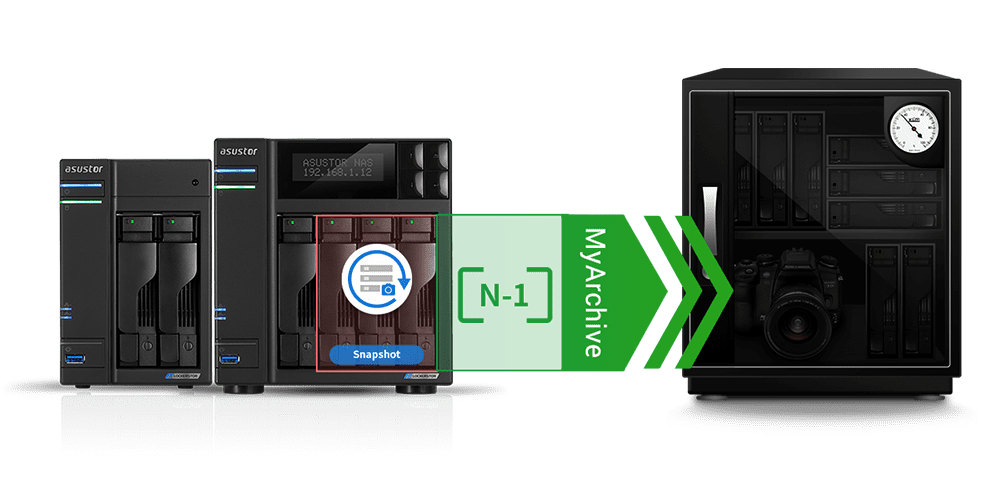 Snapshot Center
Snapshot Center is a new feature for ASUSTOR NAS devices to utilize Btrfs and iSCSI volumes to take snapshots of the information inside a NAS. Snapshot Center supports up to 256 snapshots of a volume and can be done every five minutes, creating a backup that can be restored easily if data is damaged or lost.
MyArchive now supports Btrfs and snapshots. Btrfs for MyArchive supports snapshots and version history to help protect against accidental deletions or modifications.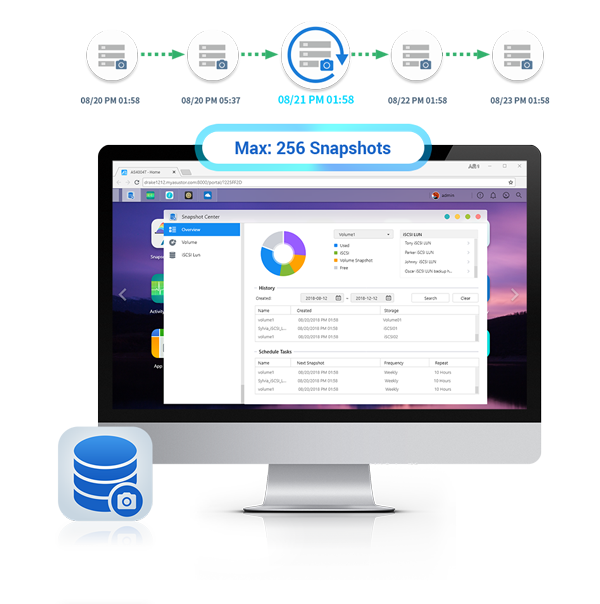 DataSync Center
DataSync Center combines multiple cloud services into a single app. DataSync Center includes, but is not limited to Google Drive, Dropbox and OneDrive and supports multitasking as well as multiple accounts. Control
CPU
CPU Model
Intel Celeron J4125




CPU Architecture
x64 64-bit



CPU Frequency
Quad-Core 2.0GHz (burst up 2.70 GHz)



Memory
Memory
4GB SO-DIMM DDR4



Memory Expandable up to
4GB (1x 4GB)


Flash Memory
8GB eMMC


Storage
Drive Bays
2
Compatible Drive Type
3.5" SATA HDD
2.5" SATA HDD
2.5" SATA SSD
M.2 2280 NVMe

Maximum Drive Bays with
14

External Ports
Expansion
3x USB 3.2 Gen 1


Network
2x 2.5 Gigabit Ethernet (2.5G/1G/100M)


HDMI Output
1x HDMI 2.0a


Others
System Fan
1x 70mm

Power Supply Unit / Adapter
65W x1




Input Power Voltage
100V to 240V AC

Certification
FCC
CE
VCCI
BSMI
C-TICK
KCC
BIS
CCC

Operation
Power Consumption
15.9 W (Operation);
9.2 W (Disk Hibernation);
0.66 W (Sleep Mode)

Noise Level
17.7dB (HDD idle)


Operation Temperature
0°C~40°C (32°F~104°F)

Humidity
5% to 95% RH

Size and Weight
Size
163.5(H) x 108(W) x 230(D) mm

Weight
2 kg / 4.4 lb

After Sales Support
Warranty
1 Year